People Caring For and About People
In Home or In Clinic Care
You are devoted and want the best for your child.
We can guide you through the process.
We have something in common. You are here because someone you care about has Autism, and you are interested in getting help. We are here because we know that we have the expertise to guide you on this path. Chrysalis has been supporting people with intellectual disabilities since 1985. We have learned a lot in that time and we have a deep understanding and appreciation for Applied Behavior Analysis (ABA) therapy. Our behavior analysts are trained in many different assessments and curricula. We know that each person is unique and we believe that the assessments and curricula should match their unique needs. Whether you choose Chrysalis or another provider we hope you will find the information on this website helpful in your journey. Our goal is to provide hope and progress for the individual you care about.
​
Chrysalis' Connects was established under the direction of Shawnee Collins, Ph.D., BCBA-D, LCSW at the request of Medicaid. Shawnee cares deeply about quality care and has built our Connects program to reflect that dedication to excellence. Before insurances ever covered Autism services Chrysalis' Behavior Analysts, lead by Shawnee Collins, had developed an outstanding reputation for reducing problem behavior and increasing skill acquisition for people with intellectual disabilities living in Chrysalis's 24-hour homes. When Medicaid was developing their Autism pilot project they specifically requested that Chrysalis take their expertise and begin providing in-home and in-clinic autism services. After careful consideration we accepted their request and took part in the first Autism Pilot Program. We know that early intervention can have a huge impact on people's future possibilities. We have the knowledge and experience to help.
Chrysalis connects has an incredible leadership team and very talented behavior analysts and registered behavior technicians.
Chrysalis Connects Leadership
Vice President of Clinical Services
With Autism services, there is not a one size fits all program. Every child is unique. You know your child best. We want your full participation. With your help we will build a treatment plan that sets your child up for success. The Chrysalis team is proficient with many different assessments and curricula that will be matched to your child's current abilities and needs. While standardizing one program for all children makes training new people easy we do not believe it provides the best results.
Learn About Services
What is Applied Behavior Analysis?
---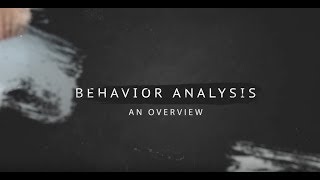 This video was created by the Behavior Analyst Certification Board and is an overview of Behavior Analysis. Behavior analysis is the science of behavior. It focuses on behavior change to improve people's lives. Applied behavioral analysis (ABA) is applying the science of behavior to transform someone's life through reduction of unwanted behaviors and through skill acquisition. Skill acquisition includes language, social, cognitive, and self-help skills like toileting. It may include developing fine and/or gross motor skills like holding a spoon to eat, picking up items, writing/drawing, or walking or running. ABA is not magic. It is a time intensive focus on learning skills and making new mental connections. Decades of research have shown that intensive ABA treatment is the most successful approach for children with autism, and it is widely recognized by a number of sources including the U.S. Surgeon General, the American Academy of Pediatrics, and the National Institute of Mental Health. Source: bacb.com
---
What is a Board Certified Behavior Analyst (BCBA)?
---
The Board Certified Behavior Analyst® (BCBA®) is a graduate-level certification in behavior analysis. Professionals certified at the BCBA level are independent practitioners who provide behavior-analytic services. BCBAs with doctoral or postdoctoral training in behavior analysis may receive the designation of Board Certified Behavior Analyst-Doctoral® (BCBA-D®). Source: bacb.com
---
What is a Registered Behavior Technician (RBT)?
---
The Registered Behavior Technician® (RBT®) is a paraprofessional certification in behavior analysis. RBTs assist in delivering behavior analysis services and practice under the direction and close supervision of an RBT Supervisor and/or an RBT Requirements Coordinator, who are responsible for all work RBTs perform. The BCBA's create the curriculum and the RBTs help carry out the daily curriculum under the direction of the BCBA. Source: b acb.com
---
What Assessments does Chrysalis Use?
---
Many parents are voracious learners and are seeking as much information as possible. This link will take you to the Association of Professional Behavior Analysts whitepaper for Identifying Applied Behavior Analysis Intervention.
---
What do services look like?
---
---
---
Our Behavior Analyst and Insurance Team
Vice President of Clinical Services
Serving in Utah County
Lehi Center
Serving in Ogden
Riverdale Center
Serving in Ogden
Riverdale Center
Frequently Asked Questions
Who will be working with my child?
---
Chrysalis Connects employs Behavior Technicians (BTs) and provides training for them to become certified as Registered Behavior Technicians (RBTs). The behavior technicians work directly with your child and implement skill acquisition and behavior reduction programs. In addition, a Behavior Analyst and/or Behavior Analyst in Training completes the assessment, writes the treatment plan, develops specific programs, provides training and oversight of behavior technicians, and monitors progress.
---
How do I get services from Chrysalis for my child
---
Click the "Request Additional Information" button and complete the form. Someone from our eligibility team will reach out with specific information regarding eligibility and availability of services in your location.
---
Can Chrysalis work around my child's busy schedule?
---
Chrysalis employees can work during any hours of the day and on any day of the week. In order to maximize the learning potential for every child, Chrysalis staff are committed to providing as many hours of service as is practical for the family and approved by the funding agency.
---
What happens if a Chrysalis staff member is sick and misses a shift?
---
First, at least two staff members are trained to implement each child's programming. In the event that a staff member is ill, the staff member will call the family as soon as they know they will not be able to work the shift. Next, the staff member will either find someone to work the shift at the scheduled time or schedule a time to make up the missed hours based on the family's preference.
---
How many staff will be working with my child?
---
Chrysalis generally has two or three staff members working with a single child. This allows for opportunities to teach critical generalization skills without compromising the consistency important to the child's success.
---
How does the Board Certified Behavior Analyst utilize their approved time with my child?
---
In order to quality treatment for every child, the BCBA and/or Behavior Analyst in Training assigned to each child spends their time completing assessments, writing treatment plans, writing and updating programs, training and observing behavior technicians implement programs, providing caregiver training and monitoring progress.
---
I have more questions about services. How can I contact Chrysalis?
---
Click the "Request Additional Information" button and complete the form. Someone from our eligibility team will reach out with specific information regarding eligibility and availability of services in your location. Or, please email your contact information and questions to autismservices@gochrysalis.com or contact Lisa Webber at 801-655-4950 ext. 107.
---
What safeguards are in place to protect my child and family during the COVID-19 Pandemic?
---
Chrysalis Connects takes the safety and well-being of each child and staff seriously. We update our health and safety practices regularly and keep in accordance with local, state, and federal health guidelines. Various practices are put into place such as health and safety screening, disinfecting work areas after each session, social distancing, and personal protective equipment. Chrysalis Connects also provides the option for services to be rendered via HIPAA compliant telehealth platforms including services provided by the RBT and/or the BCBA.
---
Where are services provided?
---
Services are generally provided either in your home or at one of our Centers (located in Riverdale and Lehi). Various factors such as location, age, deficits, and availability dictate where services can be provided.
---
Will my insurance cover ABA services?
---
Chrysalis networks with a variety of health insurance companies and our Eligibility Team will collaborate with you and your health insurance provider to determine whether ABA services are a covered benefit.
---
How can I participate in my child's treatment?
---
We value caregiver participation! In fact, the services we provide make the biggest difference when a client is successful in their natural environment, with the people who matter most. When possible, we encourage caregivers to participate during sessions, work on goals outside of sessions, and participate in parent-training.
---
How do I know if my child is making progress?
---
Chrysalis Behavior Analysts observe each child and BT on a regular basis to track and monitor progress. The Behavior Analysts then communicate with the caregivers to discuss how your child is doing. Chrysalis Behavior Analysts are invested in your child and consistent communication is key to the success of your child.
---
---
| | | |
| --- | --- | --- |
| | Yes | |
| | Yes | |
| | Yes | |
| | Yes | |
| Ogden and Surrounding Areas | Yes | |
| | Yes | |
| | Yes | |
| | Yes | |